Our Favorite Peppermint Oil Uses
*Prior to reading this article on peppermint essential oil uses (or any other health-related information on our website) please take a moment to read our full Health Disclosure.
We absolutely love using peppermint essential oil in our home!
My middle son depends on it for stomach discomfort and enjoys the pleasant aroma in his diffuser, while my husband (who is the baker in our home) loves to experiment by putting in our baked goods.
With that said, my number one go-to use for this essential oil is definitely fever-reducing! Peppermint essential oil is seriously amazing at kicking a fever to the curb, or at least reducing it to a more manageable level.
Due to constant essential oil usage in our home, we rarely get sick anymore, but on the rare occasion a fever does arise — peppermint oil to the rescue!
We have yet to meet a fever that peppermint oil couldn't break!
Want more essential oil highlights? Check out some of our other family favorites – Lavender Oil & Grapefruit Oil
Our Peppermint Essential Oil
We are a Young Living household through and through. I absolutely love their oils and standards!
Check out essential oil uses to find out everything there is to know about essential oil usage and why we love this brand so incredibly much.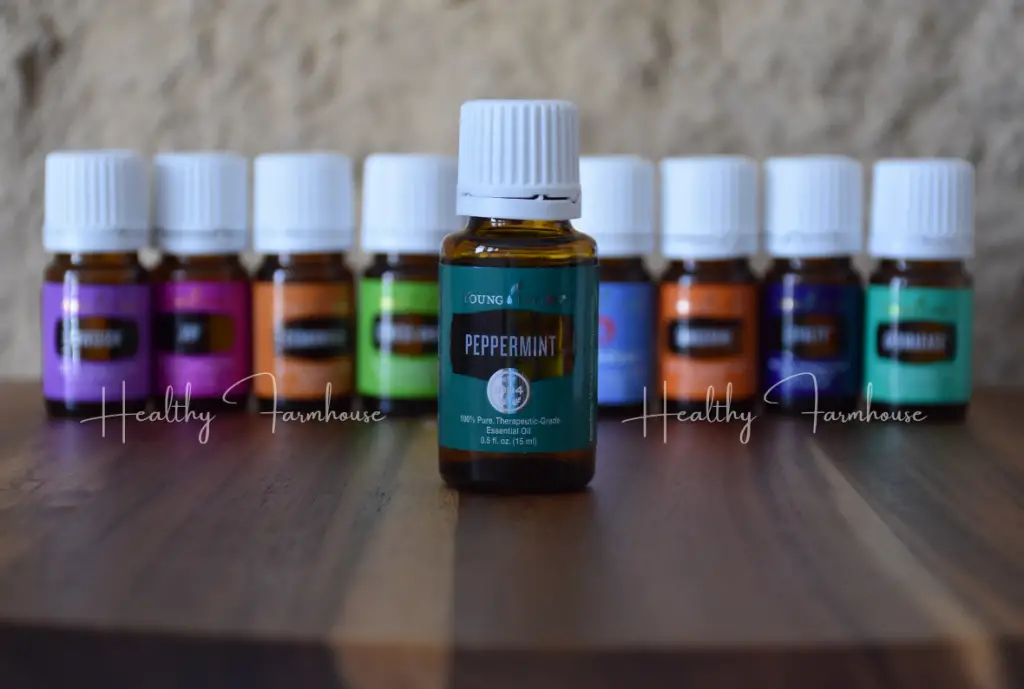 Peppermint essential oil has a wonderful minty aroma, can be used for several ailments, and can be used in three different ways: aromatically, topically, and orally.
Other Amazing Uses for Your
Peppermint Essential Oil…
Aromatic uses:
Diffuse for energy and alertness
Inhale for congestion and sinus pressure
Inhale directly from bottle to reduce nausea
Topical uses:
Rub into your temples, forehead, or neck to relieve headaches.
Rub on the belly for nausea
Massage into sore muscles to relieve aches and pains.
Apply to joints for arthritis pain.
Rub on the bottom of the feet to break fevers.
Rub on chest or back to open the lungs and ease congestion.
Apply to temples and back of neck to improve circulation and decrease headaches.
Something to know – Peppermint essential oil can be considered a hot oil, which means it can burn the skin if not diluted.
*NOTE: When applying oils topically you may want to dilute with a carrier oil for sensitive skin. I always suggest diluting for young children! Coconut oil, olive oil, or avocado oil are our typical go-to carrier oils.
*Simple Tip: You can easily create muscle or vapor rubs, by mixing coconut oil with peppermint essential oil.
Oral uses:
Drink a full glass of water with 1 drop of oil to combat acid reflux.
Add a few drops to baked goods for a refreshing hint of mint (brownies and cookies are the best!)
Place a drop on your tongue to improve concentration.
Take 2-3 drops in a capsule to suppress appetite.
Mix a single drop into honey, then brew your favorite tea over for a refreshing treat.
Add a single drop to your morning coffee (add a splash of cream or dilute with ghee) for some delicious winter comfort.
*NOTE: Peppermint Vitality is labeled for oral use, but contains the same essential oil as regular peppermint oil. As always, be careful when consuming hot oils directly- dilution is your friend!
Like this article on peppermint oil uses? Share it on social media for others to use!
If you'd like to learn more about essential oil uses, check out our entire essential oils page.