The Importance of a Dye-Free Diet
I grew up in the '80s and '90s — which was the age of Kool-aid and boxed meals.
Then, when I started having children of my own I passed down the tradition of consuming highly-dyed and overly processed foods. 
I simply didn't know any better, you guys!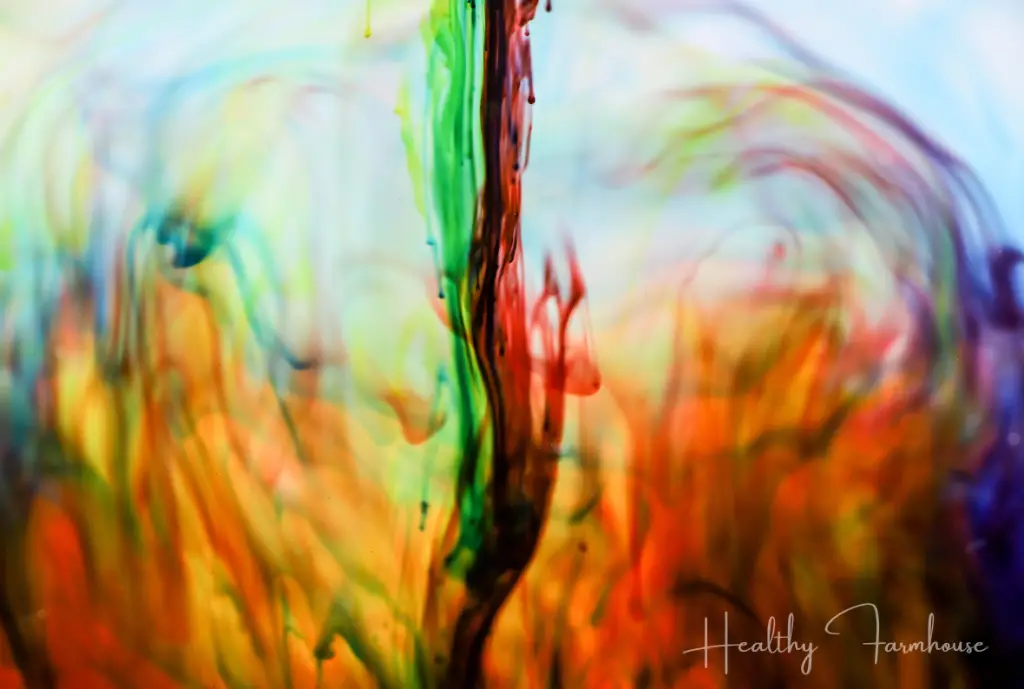 While we discovered my mom was allergic to red #40 when I was a young child due to a horrible throat-closing reaction, it was still something I consumed on a regular basis and thought nothing of.
It wasn't until I hit my late twenties that I discovered many of the health concerns and behavioral issues linked to this specific food dye and decided to start introducing a dye-free diet to my own family.
We have been a (mostly) dye-free family for many years now and all of my kiddos (yes, even the 19-year-old) avoid number dyes like they are the plague.
That said, if you truly want to begin incorporating healthier food options into your family's diet, one of the best places to start is by eliminating all food dyes!
Many of these dyes have been linked to cancer, hyperactivity, and other major health concerns.
Plus, they serve absolutely no nutritional purpose!
Chocolate Dye Free Candy Alternatives
While many chocolate candy varieties are already dye-free, there are some popular picks that aren't.
Like M&M's for example.
Not only do M&Ms have unhealthy ingredients such as corn syrup and artificial flavorings, but they are also filled with a large amount of number dyes!
Don't be fooled by their all-white candy pieces either, just look at the nutritional facts, you guys! Those suckers have 10 different number dyes listed to give this candy its pretty white color.
With that said, my absolute favorite candy swap for M&Ms is UNREAL candy gems.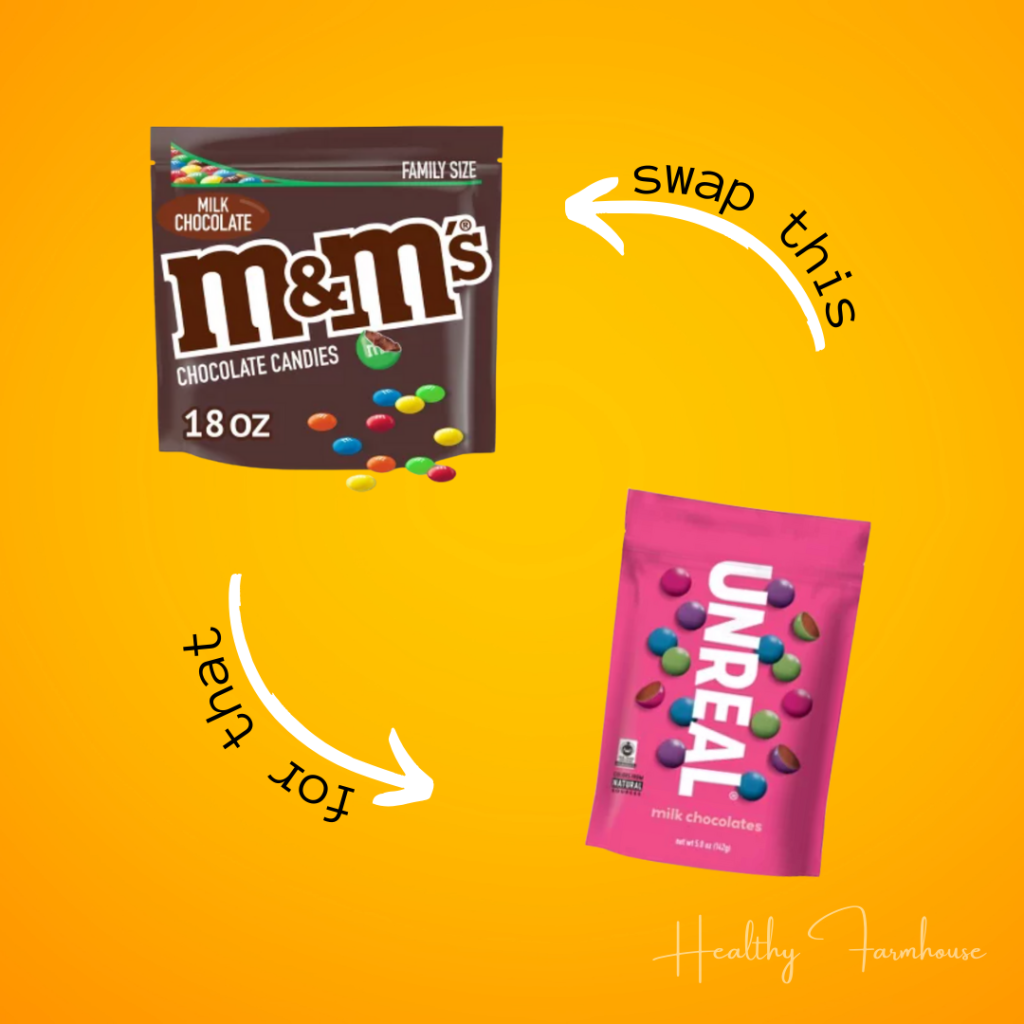 They are just so, good you guys!
While I was technically never a huge M&M fan, these candies are stinking amazing, you guys!
The regular gems are melt-in-your-mouth delicious (and 100x better than M&M's in my opinion) and the peanuts are decent too.
Other M&M alternatives:
While I haven't tried these 3 options personally, they are all dye-free and definitely worth trying if UNREAL isn't your jam.
That said, no matter which alternative you choose, get in the habit of being proactive and looking at those labels all the time, you guys!
Sucker Dye Free Candy Swaps
It can be extremely difficult to offer your kiddos fruit-flavored, sweet, or sour candies that aren't dye-filled, you guys!
From hard candies to chewy ones, most name-brand candies are filled with toxic ingredients and dyes.
Like suckers for example.
Traditional suckers like Tootsie Pops & Dum Dums are filled with corn syrup, artificial flavors, bioengineered food ingredients, and of course food dyes.
While suckers tend to be a popular treat for little ones, you know what? The crap ingredients are totally unnecessary, you guys!
Did you know a child will totally eat a sucker without all the excess junk and still like it?
My kids haven't consumed a traditional dye-filled sucker in a very, very long time and they aren't missing a thing which leads me to our favorite sucker swap!
We are obsessed with all things Yum Earth, you guys!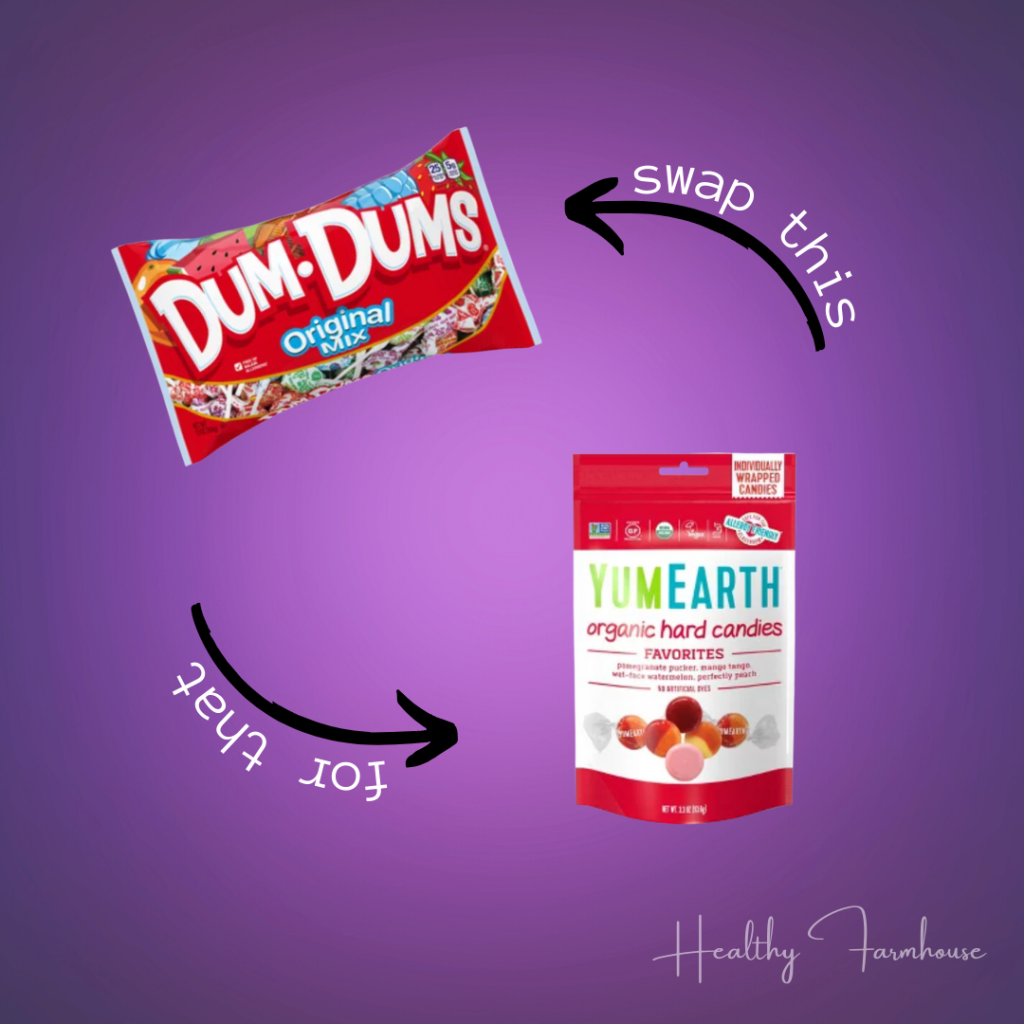 From their elderberry suckers and vitamin C suckers to their traditional flavors.
Suckers yum earth easy swap and a sucker is a sucker in my opinion. Plus, you can get the added vitamin C & elderberry versions which are perfect for this time of year!
Other Sucker Alternatives:
Fruity Dye-Free Candy Swaps
If you're kiddos like suckers, it's likely that they also enjoy other fruit-flavored candies.
While chewy fruit-flavored candy can be a tasty treat, they can also be incredibly toxic, you guys!
Like Skittles for example.
These tiny bite-sized rainbow pieces of goodness are actually little toxic pieces of junk.
Not only are they saturated with numbered dyes, but they also have other yucky ingredients such as corn syrup and titanium dioxide.
While I'm technically not a huge Skittles fan, my kiddos and husband both vouch for Giggles being a worthy replacement.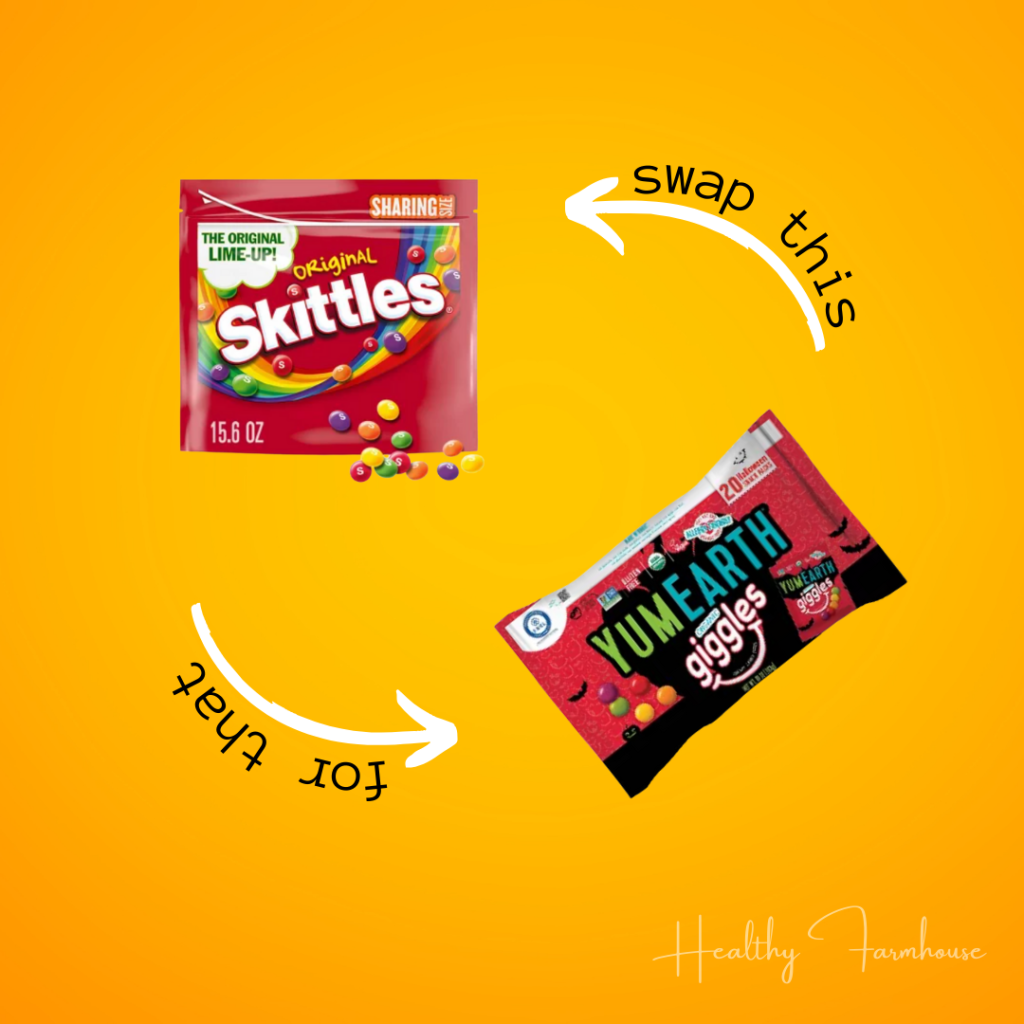 Much like Skittles, Starburst candies are filled with tons of artificial flavorings and colors!
With that said, I was a huge fan of these chewy treats in my teen years.
While my absolute favorite Starburst swap is Torie & Howard's chewie fruities, my kiddos totally love Yum Earth's chewys!
Both of these brands make for an awesome dye-free candy swap!
Other Healthier Candy Choices
While the main focus of this article is to find healthier, dye-free candy swaps for your upcoming holiday celebrations, I have a few other healthier candy choice options for you!
While they technically aren't filled with numbered food dyes, these chocolate candies are crammed with other questionable ingredients such as PGPR, TBHQ, corn syrup, palm oil, artificial flavors, and bioengineered food ingredients.
The list is pretty ugly, you guys!
Consider taking your dye-free candy swaps up a notch by swapping out some of your other traditional favorites!
I've personally tried all of these (with the exception of the Little Secrets, because I discovered them after going GF) and they are my top choices when it comes to replacing these popular candy bars!
Other alternatives:
Gluten-Free Candy List:
As someone who follows a primarily gluten-free diet, I know just how important it is to know what's in the food I eat.
That said, out of all the candies I mentioned in this post, these are the ones labeled as gluten-free (in order of mention).
*Disclaimer: If you suffer from wheat or gluten allergy always double check all labels as some of these are listed as certified GF while others are only labeled as GF.