Our Favorite Frankincense Uses
*Prior to reading this article on frankincense uses (or any other health articles on our website) please take a moment to read our full Health Disclosure.
Frankincense is a beloved oil around our house.
Seriously though, this stuff is liquid gold!
Viruses rarely hit our home, but when they do, this is the first oil we bust out! We diffuse it, rub the kids down with it, and take it in veggie capsules.
Frankincense has great immune system-boosting qualities, and I firmly believe it heals the body.
Definitely an oil we always have on hand.
I also love to use frankincense in combination with coconut oil (or lotion) for my scars and to improve skin definition.
We mostly refer to this oil as FRANK in our home and my husband likes to kid about how much we all love Frank because he's such a good friend to have around. He's a little nerdy, but it's pretty much the truth.
Frank is the number one oil in our home – love, love love this oil! 
Our Favorite FRANK
If you've been following our family, you already know we are a huge fan of Young Living oils and this one is no exception.
Want to know more about why we choose this specific brand of essential oils? Check out essential oil uses for all the details!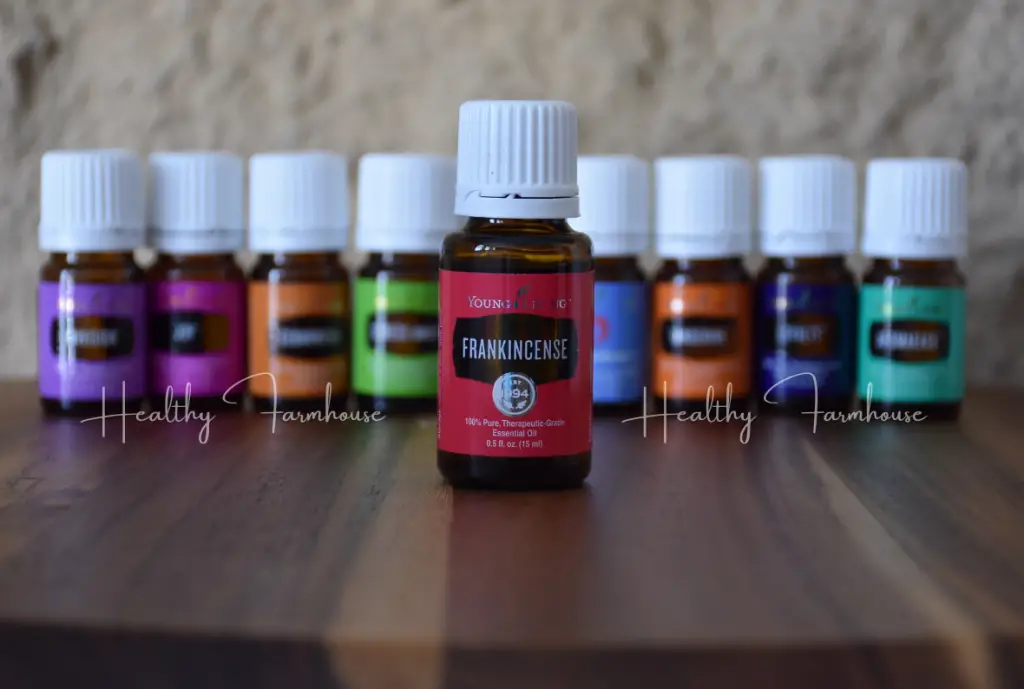 Frankincense essential oil has a woodsy aroma and can be used in multiple different ways. Aromatically, topically, and orally.
Frankincense Uses
Aromatic uses:
Diffuse to boost the immune system or fight or illness
Diffuse to combat anxiety, create a sense of calm and focus
Breath in directly by using the cupping method or an atomizing diffuser for respiratory health
Topical uses:
Add to your daily moisturizer for a radiant complexion
Use on cuts or scrapes to speed up the healing process
Rub in a figure 8 around the eyes to improve vision
Rub into scars to break down scar tissue
Internal uses:
Take 2-3 drops in a capsule for depression or healing of the body
Love this article on frankincense uses? Share it on social media for others to see!
Looking for other ways to use FRANK in your daily routine? Check out our DIY immune system booster to learn how we use this amazing oil every flu season!