Our Favorite Oregano Uses
*Prior to reading this article on oregano uses (or any other health-related information on our website) please take a moment to read our full Health Disclosure.
Oregano oil is a must-have in our home!
While we don't use it daily, we do use it multiple times a week. Not only is this oil great for preventing illness, but it also works wonders fighting off infections or lessoning symptoms naturally!
My husband has a chronic stomach issue, which we are able to keep a handle on due to this amazing oil! Before oregano oil, my husband struggled with intestinal infections and would lean on antibiotics for relief.
Due to diet restrictions and other natural supplements, his infections are few and far in between. However, when he's not eating quite as he should and inflammation gets the best of him, this oil tackles the problem in a matter of days — not weeks. 
The Oregano Oil We Love
We are a Young Living family to the core and this oil is no different. It's strong & pure, just like it should be.
If you want to know more about the oils we use in our home, check out essential oil uses for all the details!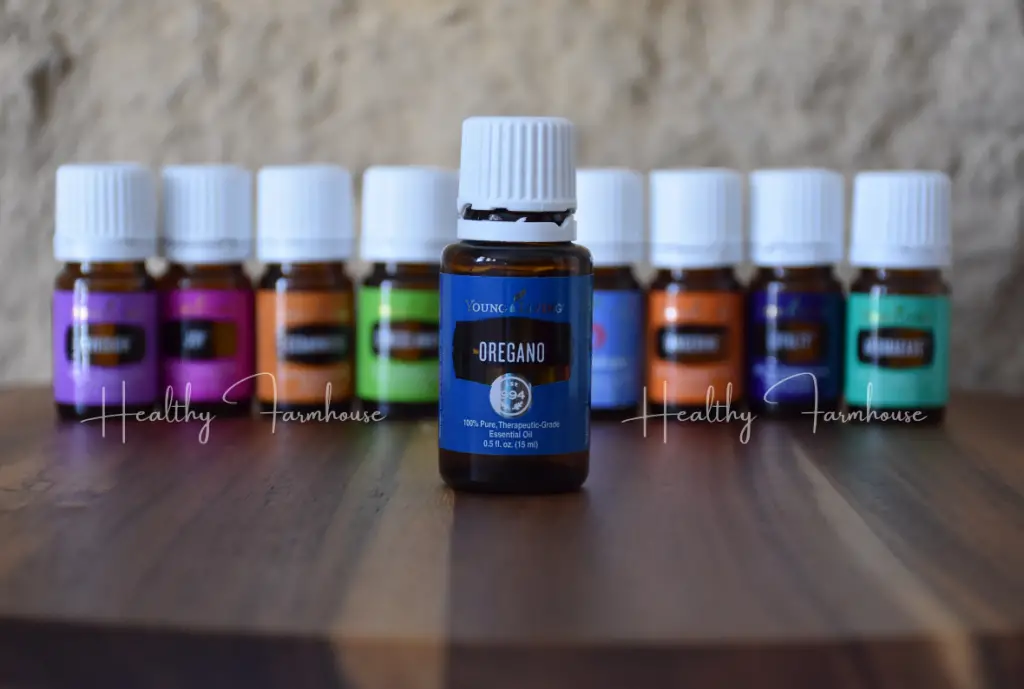 Oregano Essential Oil is a part of the mint family and has a very intriguing aroma. This oil has many health benefits and can be used in several different ways.
Oregano Uses & Benefits
Aromatic uses:
Diffuse for a nice relaxing environment
Topical uses:
Using a carrier oil, massage into fatigued muscles
Apply to the bottoms of the feet to promote overall health and well-being
Want to learn more about how to use this oil for its immune system boosting power?
Check out DIY Roll-On for Overall Health for more info!
Something to know – oregano essential oil can be considered a hot oil, which means it can burn the skin if not diluted.
*NOTE: When applying oils topically I advise diluting with a carrier oil for sensitive skin and young kids. Coconut oil, olive oil, and avocado oil are some of my favorite choices for dilution.
Internal uses:
Use when cooking to enhance your savory dishes
Take in a veggie capsule as a daily supplement to support a healthy lifestyle
Like this article on oregano uses? Share it on social media for others to use!
If you'd like to learn check out all our essential oil favorites, check out our entire essential oils page!